ARCH524 Exhibition: "HOW TO REPRESENT VOLUME?"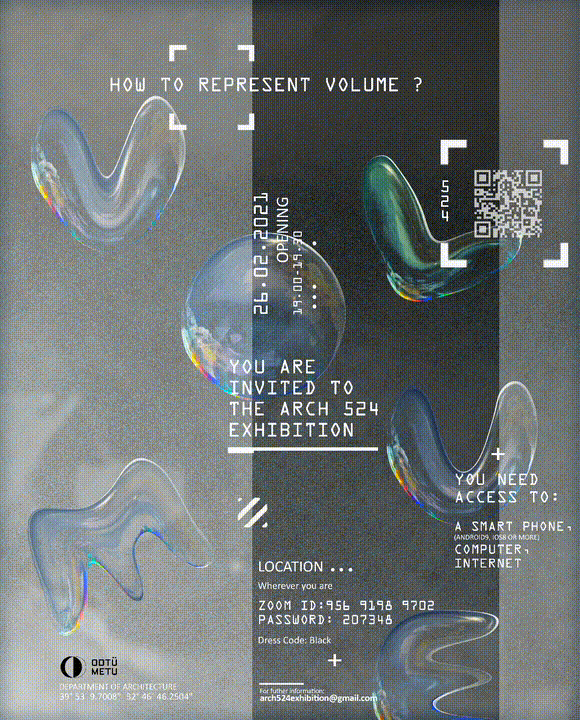 ARCH524 Exhibition: "HOW TO REPRESENT VOLUME?"
We are pleased to inform you that METU Department of Architecture course Arch524 Architecture and Different Modes of Representation conducted by Prof.Dr. Ayşen Savaş, is organizing an online exhibition.
This event is organized as part of an ongoing exhibition series: "Representing Itself - METU-Faculty of Architecture Building", and will be focusing on the challenging endeavor: "HOW TO REPRESENT VOLUME?"
You are cordially invited to join us on the 26th of February 2021, Friday at 7.00 PM, İstanbul.
For the EXHIBITION:
You need access to a computer, a smartphone (Android9, iOS8, or more), and an internet connection.
We would like to remind you that you will join us via Zoom; the dress code is "black", the virtual background image can be downloaded here, and there will be a virtual cocktail.
Join Zoom Meeting:
Time: Feb 26, 2021 07:00 PM Istanbul
https://zoom.us/j/95691989702?pwd=Wno4WWRXUzc0OEszNmsvTjVZeStpUT09
Meeting ID: 956 9198 9702
Password: 207348
For the EXHIBITION WEBSITE please visit here.
---
Last Updated:
27/02/2021 - 14:45